THE CAMPAIGN STRATEGY & OUTLINE - Keys to Success
THE SEQUENCE
First and foremost, we cannot over-emphasize the importance of continuous and sequential campaign Challenges. Just doing one is great. You'll see additional site traffic, sales, etc, but the idea is if you build on the past campaign it only gets amplified because of prior campaigns. This is how your social currency really takes off. Here is one real example of a sequential campaign that, in 1 year brought in over $500k in marketing results.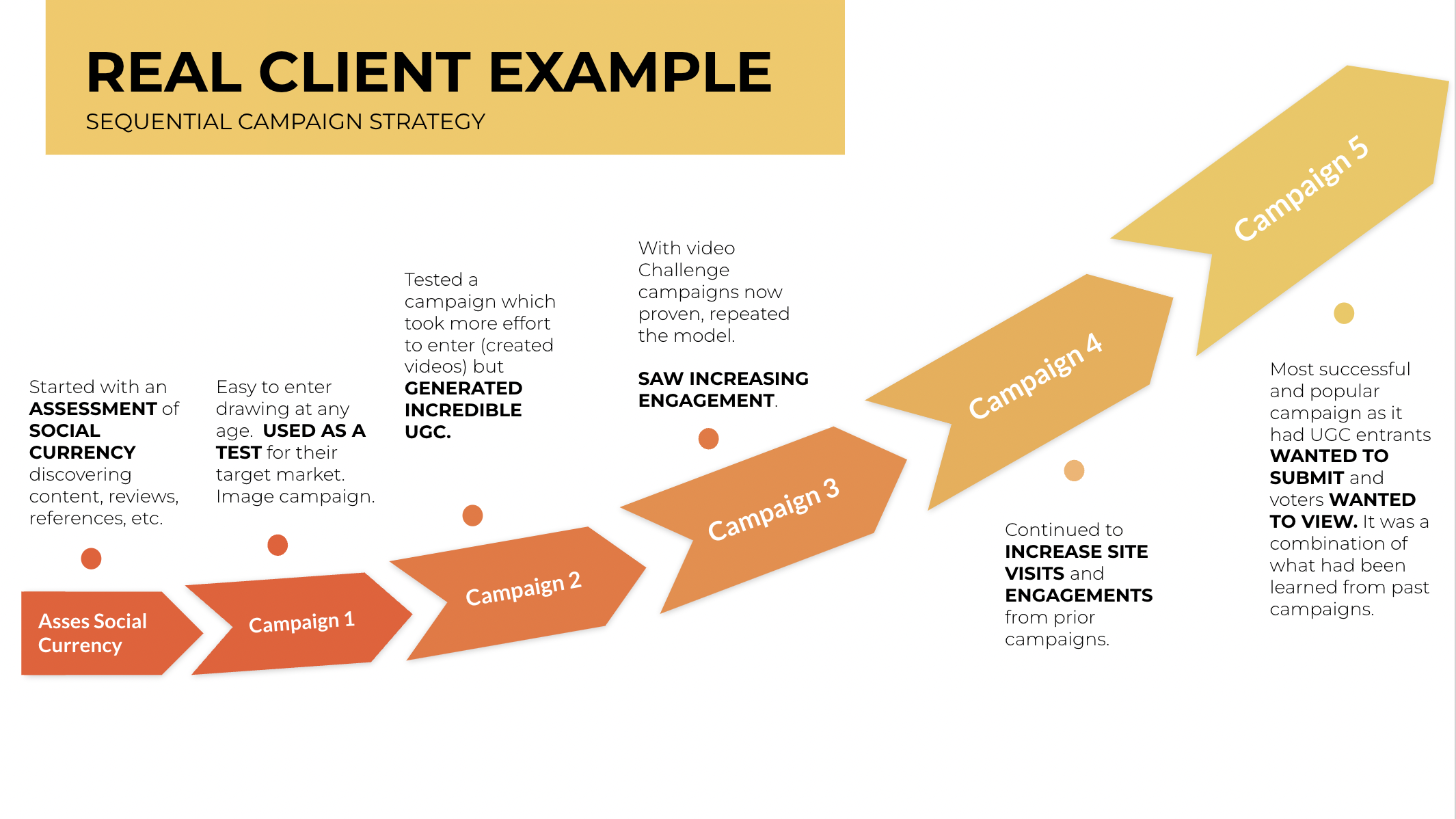 THE SOCIAL
Every great campaign (Gigg or otherwise) includes really great social posts with a really great influencer acting as the face of the campaign. A company or institution with a large social reach or email list could be considered an influencer. The beauty of the Gigg Platform is that, not only will the sociality of the campaign bring additional results immediately, but we will also use our enormous network of influencers to make sure you get the right one AND the content you gather throughout your campaign will create HUGE AMOUNTS OF USER GENERATED CONTENT for your brand to use in your own social posts into the future.
With that, there are 7 different posts that are required (now, we can't force you to do anything, but if we could...) for a successful social campaign. These posts should be created using your chosen influencer(s).
7 Required Influencer Social Media Posts
Initial Post - This is a post announcing the a Challenge is coming and that it will be TOTALLY worth it. Even better, use a Gigg Comment Challenge in conjunction with this initial social post to get a lot more engagement to drive that post up the social media platform algorithms.

Intro Video Post - This is the main video that invites the world to start submitting their entries to the Challenge. Make it fun to watch. Keep it simple. Also, see this article for an example intro video script.

Submission Reminder Video Post - This post reminds the world that submissions are coming to a close. It is usually posted 24 - 72 hours prior to the submission stage ending.

"Voting is live!" Post - As soon as voting opens up for the first round, another post inviting the world to vote is critical. In our example campaign with Michael Buble, here is the post he released for the voting stages. Notice how he USED THE UGC that he had already gathered!
5. Mid-Challenge Post - This post is a reminder to vote. We HIGHLY recommend that you mention a really great prize for a randomly chosen voter. This post often includes a compilation video made up of some of the brand's favorite Challenge entries.
6. "Voting is almost over!" Post - 24 - 72 hours prior to the winner being chosen, invite everyon to cast their final votes. (As a reminder, you can also use the messaging section in the Gigg Challenges software to email and text anyone who already voted to invite them back to vote again.)
7. Winner Announcement Post - This is a critical post calling everyone back to the site to see the winner. **IMPORTANT**: Do not post the actual winner on your social platform! Invite them back to your site to find the winner.
ONE MORE THING!!
These are just the minimums. It is better to be posting during every round and at any other opportunity.
THE AFTERBURN EFFECT
Now that you've run your first set of successful campaigns, remember to USE THE USER GENERATED CONTENT IN YOUR MARKETING EFFORTS!! This UGC that has been created by your followers and fans, if used in your marketing efforts, makes your materials more authentic, more relevant and more powerful.